1972 Ski Doo Olympique Restoration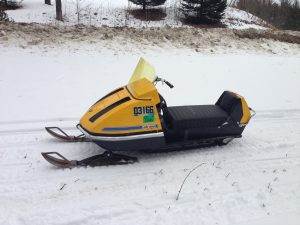 Over the course of a few years, I completely rebuilt a 1972 Ski Doo 399 Olympique snowmobile. My dad bought this machine in the 70s and it sat in the back of my grandparents' garage for as long as I can remember.
I started working on this when I was about 13. Consequently, it took me a few years to finish the project because I had to learn so much along the way.  I had to teach myself how to weld, how to replace bearings, and network with a lot of experienced people on forums and local businesses.
First, I took everything apart at my grandparents' house so I could take it home and work on it during the school year.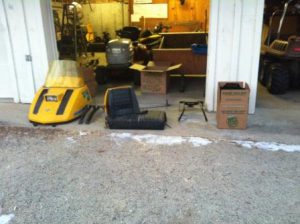 ENGINE
I started with the motor. Before taking it apart, my dad helped me get it started. It only ran on one cylinder and sputtered quite a bit. The crankshaft seals were dried out and popped out of the case.
Fortunately, I found someone online who had a collection of original Rotax parts. I was able to purchase piston rings, crank seals, spark plugs, and a carb rebuild kit from him.
Old vs new crankshaft seal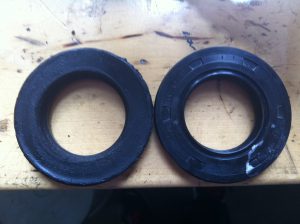 Installing the new seal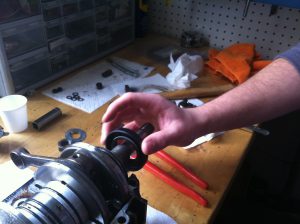 Lower and bottom case back together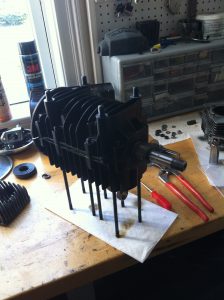 Pistons installed with new rings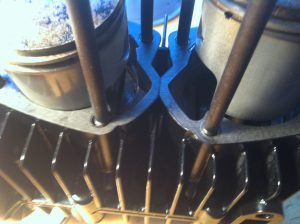 Cylinders installed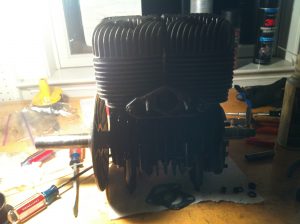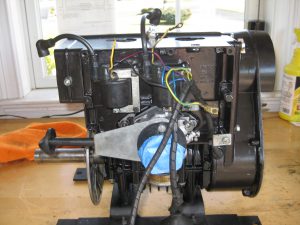 FRAME
After completing the engine, I moved onto the frame. I spent a lot of time grinding down rust spots and scuffing the original paint so it could be refinished.
This is the point where I had to teach myself how to weld. I encountered a fair amount of rust and I had to put in a few patches.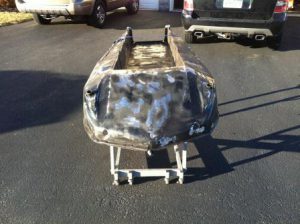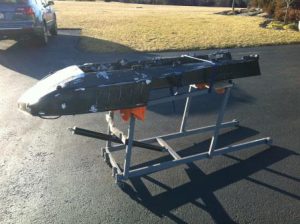 Suspension and Drivetrain
Like the engine, the suspension and drivetrain had their own ailments. The bearings on the rear axle were on the verge of destruction as they wobbled and made clunking noises. One of the suspension springs was broken which caused the snowmobile to lean to one side and track slides were so worn that the track was almost riding against metal.
Old vs new track cogs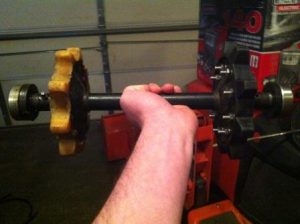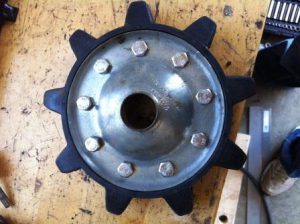 Rear skid, repainted and assembled with new hyfax
Reassembly 
After finishing the major components, I started to put things back together. I often found myself taking apart things again because I installed things in the wrong order.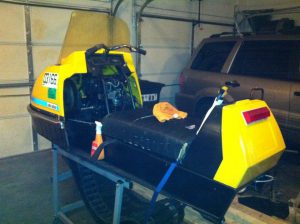 After a lot of fine tuning, I got to take it on the first test ride. Unfortunately, something happened in the carb that caused it to flood and ultimately die in the middle of the woods so I had to get towed home.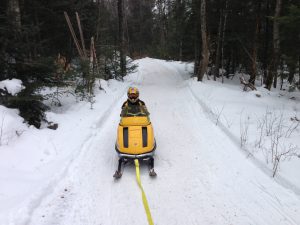 However, after some trouble shooting, I eventually worked out the solution and the machine runs as if it were new! Today, it once again sits in the back of my grandparents' garage waiting for winter.